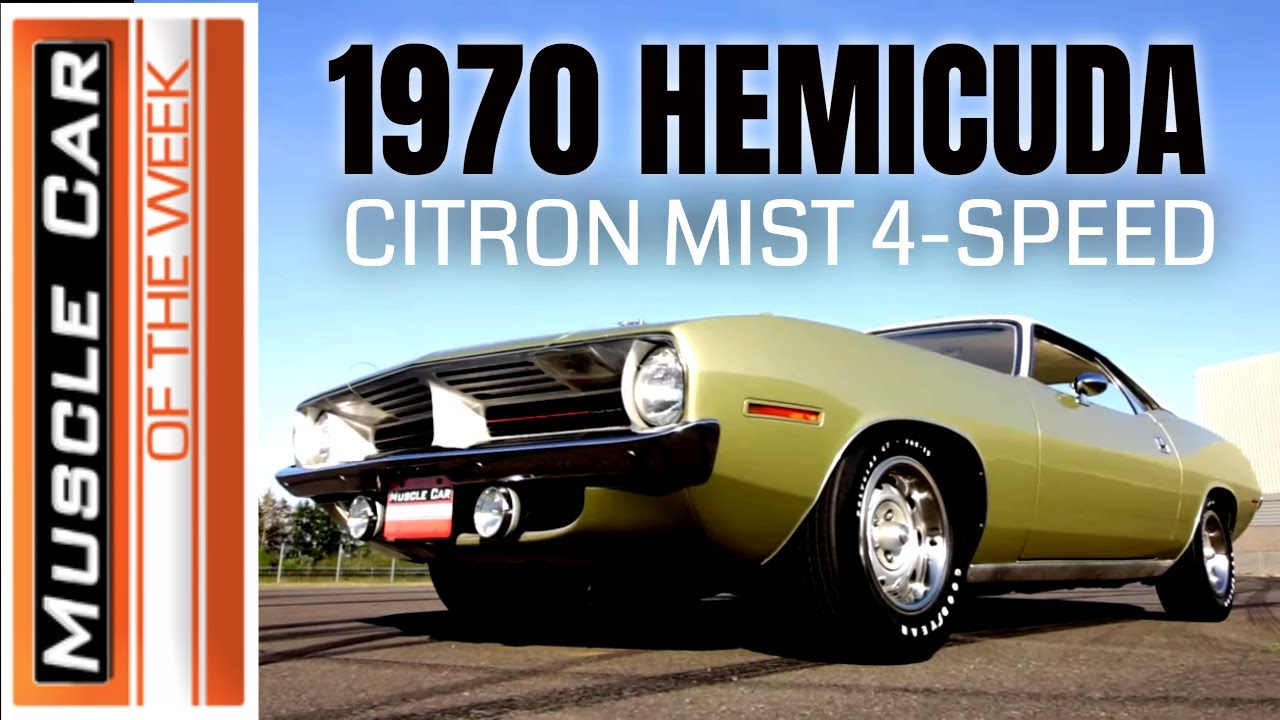 1970 Plymouth Cuda 426 Hemi 4-Speed – Muscle Car Of The Week Video Episode 348
Hemi Cudas are known for wild colors, but take a sip of this one in Citron Mist!
Aaah, the 1970s. It seems like car colors were either over-the-top with bright colors and stripes, or completely subdued with earthy greens and browns. This 1970 Hemi 'Cuda 4-speed from The Brothers Collection is wearing a great shade of Citron Mist green, complemented with a white vinyl top and interior. I dig it!
This is a special 'Cuda indeed. Many of us immediately think of high-impact colors, big billboard stripes, spoilers, and other attention-getting graphics when the topic turns to Mopar Muscle Cars. But in this case, our code FY4 Citron Mist hemicuda takes the subtle approach, at least on the visual side of things.
The Barracuda was redesigned for 1970 to more easily accept giant engines like the 440 and physically larger 426 Hemi, and this one's got the goods. You know, I don't think any other car company picked up a car's nickname and used it officially like Plymouth did. The base model was the Barracuda, and because the kids on the street shortened the name, Plymouth called the high performance versions 'Cuda, and then changed it to hemicuda for those with the elephant gun under the hood. While other people called Pontiac GTO the goat, you never saw Pontiac acknowledge that nickname.
Plymouth was known for offering hundreds of different options, so you could personalize your 'cuda to be a one-of-a-kind if you really wanted. This one has a cool mix of sporty and subtle all at the same time. The shaker hood scoop and hood pins interrupt the solid color body, which was ordered with a Hemi stripe delete package. The lower fog lights bring some zip to the front end, but there is no lower spoiler. And the white vinyl roof and white interior balance that cool Citron Mist color. Which, by the way, sounds like the name for a bubbly soda-pop splashed in a cocktail… you can almost hear the fizzing when you look closely at the paint.
There's a perfect amount of argent silver on the shaker scoop, the grille surround, and rally wheels, with just a touch of chrome and polished trim splashed in for classy contrast. It's a really good looking car, as unusual as it is.
Even though the exterior is rather conservative, don't let it fool you.. that shaker hood scoop sits on top of a dual-quad 426 Hemi backed with a 4-speed box, kinda like a prize fighter in a gold dinner jacket!
Yep, this is also one of the 284 425 HP 426 Hemi 4-speed 'cudas built for 1970, so it's a rare one in options as well as color. The New Process 4-speed manual transmission found itself being thrashed on both ends, both the 490 ft. lbs. of torque from the Hemi, and also by the Hurst pistol-grip shifter thrown around by speed-crazed drivers. 2 Carter AFB carbs had a chugging contest when the hammer went down, turning good old-fashioned leaded gas into white tire smoke on command.
Inside, this mystical machine sports a stark black and white interior, with more great option choices. The dash is filled with the optional rally gauge cluster for easier viewing of engine vitals at high speed. The speedo winds up to 150, and the tach to 8000. It's got comfortable white high-backed bucket seats, and the driver's is 6-way adjustable. Power steering is actuated by the cool looking sport steering wheel, and also features the rim-blow horn to make a lot of noise with just a little squeeze. Woodgrain breaks up the white upholstery and the black console and carpet.
These cars are a bit nose heavy with the all cast-iron 426 Hemi up front, but they handle and drive pretty well. The front suspension uses a torsion bar design for springs, and manual front disc brakes tuck behind the rally wheels. The rear uses traditional leaf springs and drum brakes.
This one has it all, from power and performance to luxury interior upgrades and a classy overall look. Do you like 'em "in your face" with stripes and bright colors, or flying under the radar like our '70 here? Let us know as you subscribe to the channel, and we'll be back next time with another awesome car from The Brothers Collection!
#Cuda #Hemi #MuscleCar
SUBSCRIBE: https://goo.gl/RIkdDS
http://www.musclecaroftheweek.com