This 1971 Chevrolet Camaro has been in our customer's life for over a decade, and while he does not get many chances to drive it, the car is ready for some maintenance and upgrades.
Click "Read More" for the complete and photo gallery!
Contact the V8 Speed & Resto Shop with all your Classic or Muscle Car needs today!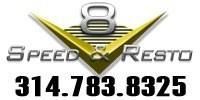 817 S. MAIN STREET – RED BUD, IL 62278