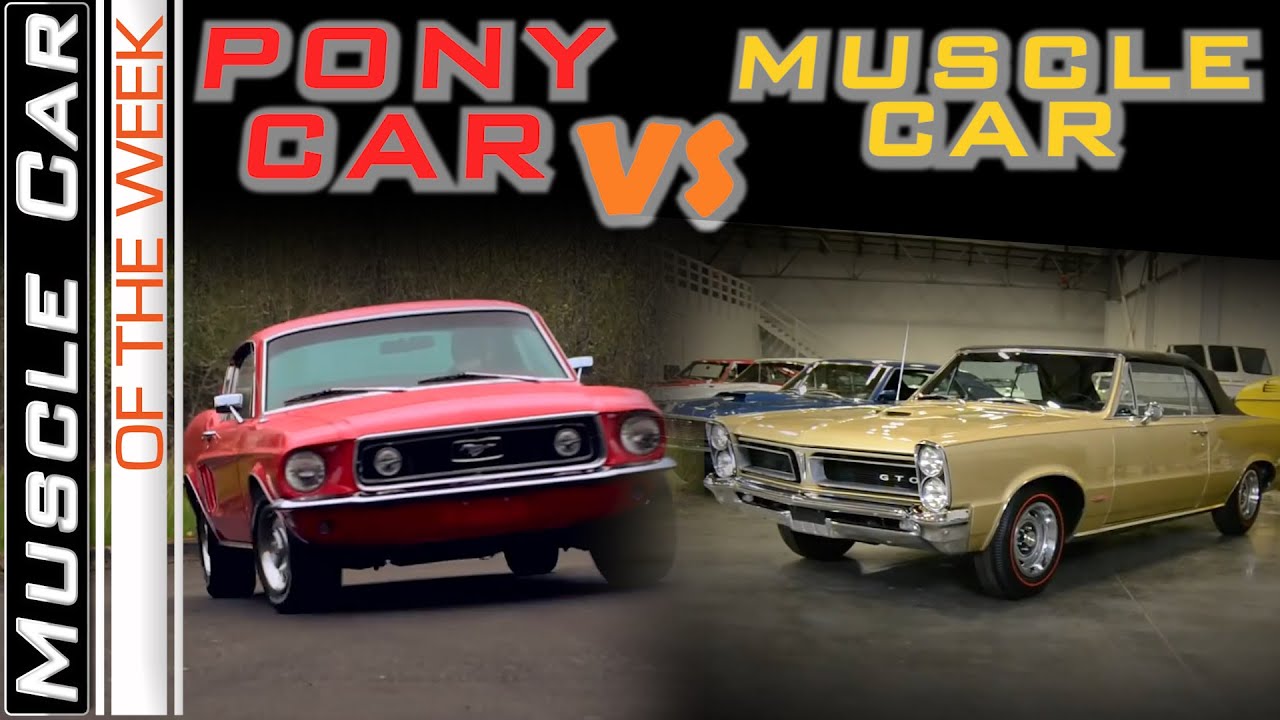 Pony Cars Vs. Muscle Cars – Muscle Car Of The Week Episode 361
The term muscle car is thrown around quite a bit, and we even do it a lot on this show. However, we decided to take a few minutes to look at the difference between the definition of muscle car vs. Pony car And to look at a couple examples of each.
Many people think a muscle car is just a fast car from the 60s or 70s with a big engine. And while that definition is true to some degree, it gets a bit more technical than that.
Automakers began putting more powerful engines in low option cars in the early 60s, resulting in machines like the 409 Bellaire and 406 powered for Galaxy. But these were full size cars with as few options as possible to make them lightweight and more competitive in drag racing. Plymouth seemed to lead the charge by putting their 413 wedge Motors into family cars like this 1963 Sport Fury, but these were extremely limited production cars with high-compression engines not suitable for daily driver use.
1964 seems to be the pivotal year for the evolution of the muscle car with the birth of the midsize car platform from General Motors known as the A body. These cars were available in two doors up to station wagons, and they had a body-on-frame Construction. Automakers realized there was a percentage of the buying public that was hungry for high performance cars, so the secret recipe was to install the largest regular production engine available into the lightest 2-door midsize car platform and back it with a manual transmission. Add some stiffer suspension components and give it a special name, and you have a muscle car. Something that demonstrated high performance but wasn't too radical to be driven every day.
Pontiac is usually given the credit with the 1964 GTO with a 389 and a four-speed, followed by the Olds 442 and Chevelle Malibu SS 396 and 65. Ford Galaxie remained a full size car, but the midsize Fairlane was made available with engines up to 427 cubic inches to compete in this new market. Of course, Dodge and Plymouth had their offerings as well with The Dodge Charger and Plymouth Coronet, Both available with 426 Hemi V-8. The Muscle Car Party had begun.
But something else happened in 1964, and that was the introduction of the Ford Mustang. A car so popular, it created its own category named after it, known as The Pony car. The Mustang was smaller and lighter, and more importantly, only available in a two-door platform. I think this is a signature trait of a pony car. Everyone knows how popular they became, and other automakers rushed they're virgins to Market including the Chevrolet Camaro, Pontiac Firebird, and Mercury Cougar. Plymouth had launched their barracuda at the same time hoping to cash in on this new market segment targeted towards younger buyers. And of course, younger buyers wanted high performance versions as well, so all of these cars were made available with potent V8 engines, although their smaller size did not necessarily allow for the biggest engines to be installed. However, by 1968, the Mustang and cougar had been redesigned to accommodate larger 428 engines, and by 1970, the Dodge Challenger and Plymouth Cuda or revised to handle engines as big as the 426 Hemi. The Camaro and Firebird had an advantage that they could handle the Chevrolet big block and large Pontiac V8 engines from day one.
So a 428 Super Cobra Jet Mustang sure sounds like a muscle car, but technically, it's still a pony car. One big difference being the Mustang was never available as a family sedan. Do Pony cars qualify as muscle? Seems that way to me. But muscle cars do not qualify as Pony cars. And full size performance cars like the SS Impala And Galaxie remain in their own category. Confused yet? This is the reason why the muscle car term is use as a blanket name for many V8 powered cars of the era with high performance capabilities. And yes, Corvettes are technically sports cars.
The important part for us is that we dig them all here at Muscle Pony Sports Car of the Week, And are happy to share the sights, sounds, and stories of all of them. What do you think? From the Brothers Collection, I'm Kevin Oeste. See you next time!
Pony Cars Vs. Muscle Cars – Muscle Car Of The Week Episode 361
#Pony Car #MuscleCar #V8TV
http://www.musclecaroftheweek.com –
FACEBOOK: https://www.facebook.com/MuscleCarOfTheWeek/