1951 Chevrolet Dump Pickup Truck Restoration Photo Gallery
This 1951 Chevrolet pickup truck served as our customer's Grandfather's farm truck for many years. In fact, it was his Grandfather that built the original dump mechanism for the truck. After years of labor on the farm, the truck was sent to the V8 Speed & Resto Shop for a complete restoration with some modifications to make it like new… and ready to be put back to work!
Click "Read More" for the complete video and photo gallery!
Click this link
to see the '51s after-restoration cross country road trip home!
Contact the V8 Speed & Resto Shop with all your Classic or Muscle Car needs today!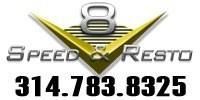 817 S. MAIN STREET – RED BUD, IL 62278