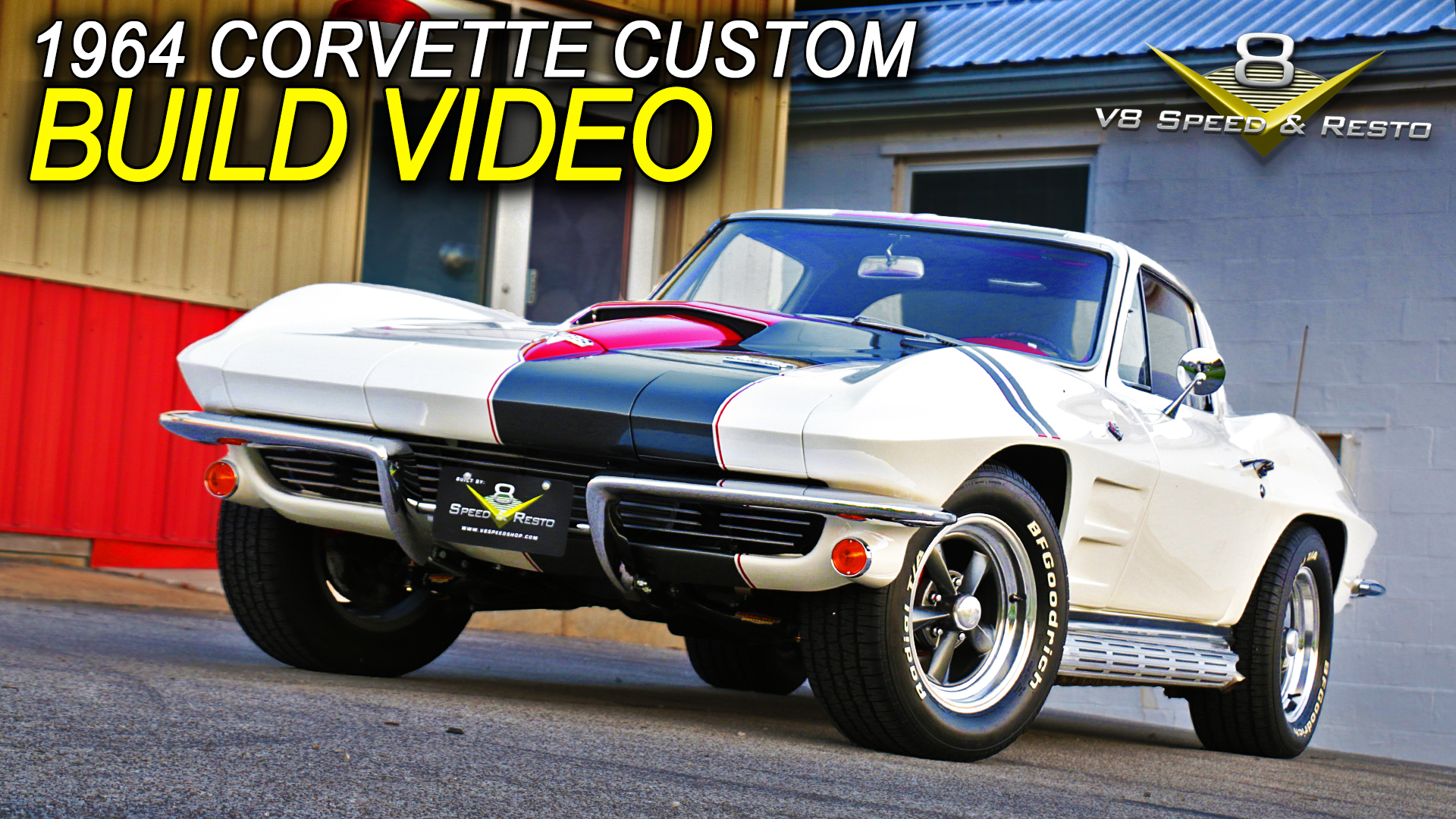 Hot Wheels: Chevy Corvette Restomod Build: Custom '64 Corvette C2 At The V8 Speed and Resto Shop
We've all wanted a full-size version of our favorite Hot Wheels car, and this custom 1964 Chevrolet Corvette built at the V8 Speed and Resto Shop makes that dream come true! The restomod Corvette build features custom paint, performance suspension upgrades from Global West, new disc brakes, and a Holley Sniper EFI system install on the Edelbrock 350 crate engine.
The main part of the project was repainting the Corvette in custom colors. The goal was to give the overall appearance of a full-size Hot Wheels car, a car that is fun to look at and drive! Custom C2 Corvettes can be controversial, as changing a C2 Corvette from original can hurt it's collector car market value. However, this 1964 Corvette did not have it's original engine any longer, and the exterior and interior had been changed from their original colors as well. This allowed for some freedom of expression to build a custom Corvette with a new paint job all it's own.
This custom Corvette video features disassembling the corvette, repairing the fiberglass body, and a bit of Corvette C2 history. The V8 Speed and Resto Shop paint department repaints the Corvette in Ermine White, then lays out the 3 color custom stripe design. We mask off the stripes and custom paint the Corvette in our downdraft Blowtherm paint booth, and spray a final clear coat.
SUBSCRIBE TO OUR YOUTUBE CHANNEL:
https://goo.gl/RIkdDS
Once the Corvette is buffed and polished, we feature the car reassembled and completed with drone and driving footage.
The V8 Speed and Resto Shop is as full service custom and restoration shop, complete with a full fabrication shop, body shop, paint shop, interior shop, and mechanical departments. We perform stock restorations and complete custom builds, so if you are wondering who can build your dream car, we can do it! LS Swaps, custom body mods, modern driveline swaps, custom interior, custom consoles, high quality custom paint, and dyno tuning are all available. Contact the V8 Speed and Resto Shop today to see how we can make your custom, restomod, pro-touring, street rod, or performance truck build come to life!
CONTACT THE V8 SPEED AND RESTO SHOP
817 S. Main Street
Red Bud, IL 62278
314.783.8325
https://www.v8speedshop.com/contact-us
corvette #custom #v8speedshop #globalwest #holley #rocketracing
Take A Desert Cruise in the Corvette! (Thanks to the owner for sharing this video!)
#customcorvette #v8speedandresto #corvetterestoration
Contact the V8 Speed & Resto Shop with all your Classic or Muscle Car needs today!
817 S. MAIN STREET – RED BUD, IL 62278