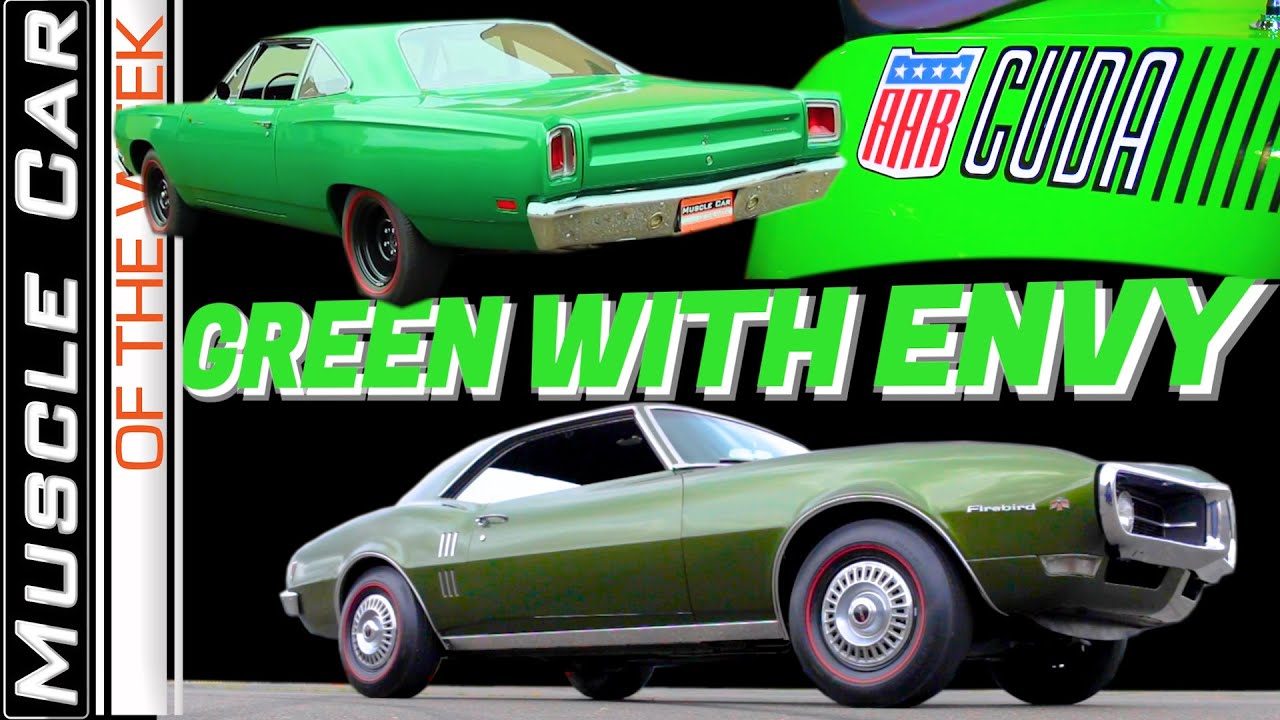 Greens | Muscle Car Of The Week Episode 365
Green Car Playlist:
https://www.youtube.com/playlist?list=PLGV8X9X8baVihipuGJlzvCjrJDqICe6Ka
Our friend Kermit The Frog once said "it's not easy being green", but if you're one of these top 6 viridescent muscle machines from The Brothers Collection, it's easy to see why moss is the boss.
Our number 6 green machine is the super-rare 1968 Pontiac Firebird drenched in Verdoro Green, and ready for action.
This Ram Air II Firebird brings power and style, and you can learn the whole story in episode 317 of Muscle Car Of The Week.
The number 5 slot goes to the Seafrost Green workin' machine featured in episode # 316 of Muscle Car Of The Week, and that's a 1968 Chevrolet El Camino built with the RPO code L78, 375 HP 396 big block V8 and a 4-speed transmission. Less than 400 were made with the L78 and the SS package, and this one brings it in Seafrost Green. Check out episode 316 for more details!
Mother MoPar is known for spraying rides in wild colors, and this '69 ½ Roadrunner A12 is a great example of Rallye Green on a super hot muscle car. The A12 was a drag-race warrior built with a 440 breathing through a 6-barrel intake under the black lift-off hood. The 4-speed handle wrapped around the all-business bench seat for a ride you wouldn't soon forget. This vivid green A-rod featured in episode 152 of Muscle Car Of The Week!
Camaros came in a few cool greens back in the day, and this clean 1970 Z28 rocks the shade thanks to a hot LT1 350 V8 and a 4-speed transmission. The Z28 was Chevrolet's entry into the Trans Am racing series, and these were built to satisfy the Trans Am rulebook, which dictated that street versions of the real road race cars had to be sold to the public to keep the race cars legal for competition. It's a Forest Green canyon carving machine, and the details are found in episode 119 of Muscle Car Of The Week!
Ford also played in the Trans Am series, and our number 2 choice in this tribute to the greens is a hot 1970 Ford Mustang BOSS 302! The BOSS 302 was a high-revving road machine with all kinds of special equipment to help it hold the road and make great power from a Trans-Am legal 302 cube V8. This one stuns the competition wearing a vivid shade of Grabber Green, and its story is told in episode 130 of Muscle Car Of The Week. Dig it.
Our next example of mean green is another Trans Am car for the street, the legendary 1970 AAR 'Cuda. The AAR is short for All American Racers, cars built by Dan Gurney's race shop that featured a hot 340, tuned-up suspension, and awesome graphics. This one is dipped in Sassy Grass Green, perhaps the wildest shade of green ever sprayed on a muscle car. The AAR's appearance, attitude, performance, and this shade of green meant nobody was sneaking around at night, but it left everyone green with envy. Sorry, but I had to say it. Check out this amazing ride in episode 50 of Muscle Car Of The Week!
We hope you dug our look at some shamrock speedsters from The Brothers Collection, we certainly had fun putting the list together. If you like this kind of stuff, click that subscribe button, and we'll see you next time on Muscle Car Of The Week! Thanks for watching!