Our customer wanted to drive this clean 1971 Chevrolet C-10 pickup as a daily driver, while improving performance, economy, and reliability.
In this 3 part video series, we swap in a fresh LS3 485 HP GM Connect & Cruise engine and 4L60E automatic overdrive transmission into this sweet 1971 Chevrolet C10 pickup truck. The benefits include reliable performance, 485 horsepower, better fuel economy, and more. The engine came from Weir Chevrolet, our supplier for GM crate engines and such, and we tuned it with an HP Tuners suite.
We used a Hooker engine mount set to bolt the LS3 into the truck. A Holley accessory drive was added to mount the alternator, power steering pump, and A/C compressor. The whole rig is kept cool with an Entropy radiator and Spal cooling fans. The crew was able to connect to the existing A/C system in the truck and make it functional.
The fuel system starts with a reproduction fuel tank from Tanks, Inc., which comes redesigned to house a high-pressure EFI fuel pump, and an internal pump matched to the requirements of the LS3. The truck's vitals are monitored by a set of Dakota Digital VHX gauges, and a Dakota cruise control module is also used for easy highway cruising. A new rear gear set with 3.08 gears works better with the 4L60 overdrive transmission for snappy acceleration and economical highway cruising. Click "Read More" for the complete video and photo gallery!
Contact the V8 Speed & Resto Shop with all your Classic or Muscle Car needs today!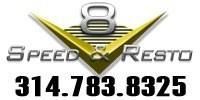 817 S. MAIN STREET – RED BUD, IL 62278