This 1946 Ford Tudor street rod stands tall after a cosmetic restoration at the V8 Speed & Resto Shop! The car was already sitting on a Mustang II front suspension with a Chevy 350 and Turbo 350 transmission combination when it arrived at the V8 shop, and the owner was happy with how it drove. But he didn't like the peeling black paint, the beat-up trim, and the rust around the edges. It was time to strip it and start fresh.
Once the paint was stripped, it was obvious that the old Tudor needed some love in the metalwork department. The trunk floor was badly rusted, and the rear fenders were also rusted thin with pits. Nice 1946 Ford rear fenders are hard to find, so the V8 crew created new ones in the metal fabrication shop. Once TIG welded in, you can't tell there were any repairs ever made. Similar treatment was done to the trunk floor.
The body shop crew took it from there, sanding the Tudor's curves and prepping the body for paint. Once in the paint booth, the '46 was treated to multiple coats of Mercedes Graphite Metallic basecoat color and several layers of clear. We think the polished and replated trim looks dynamite against the subtle metallic silver color.
Inside, the seats, carpet, and headliner were reupholstered, and the dashboard chrome was restored adding a brilliance to the interior not found on modern cars.
The 350 was tuned up, Rocket Racing wheels were added, and this super clean '46 Ford is ready for another ¾ of a century of cruising fun.
We invite you to contact the V8 Speed & Resto Shop for all your fabrication and paint needs, no matter how old your ride!
Contact the V8 Speed & Resto Shop with all your Classic or Muscle Car needs today!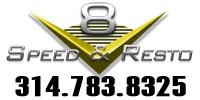 817 S. MAIN STREET – RED BUD, IL 62278