This 1969 Chevrolet Corvette Convertible came to the V8 Speed and Resto Shop in need of some serious power, performance, and reliability upgrades. This C3 Corvette was powered by a non-original and well worn 350 cubic inch V8 backed by a Muncie 4 speed manual transmission. The goal was a Corvette LS Swap to add modern power to this C3 Corvette. A C3 Corvette LS Swap seems to be a simple job at first glance, but the more you investigate, you'll see that a C3 Corvette LS Swap isn't quite so simple.
The V8 Speed & Resto Shop team addresses the fitment issue of the LS3 V8 swap, as well as the steps needed to perform a Tremec T56 Magnum 6 speed manual transmission swap into the C3 Corvette. The challenges included fitting the off-center LS3 engine under the hood, as well as fitting the Tremec 6 speed manual transmission into the C3 Corvette chassis. We sourced our LS swap engine from GM Performance Parts, and a Tremec T56 Magnum 6 speed manual transmission, clutch, bellhousing, and shifter from Modern Driveline.
The V8 Speed and Resto Shop team fabricated a custom transmission tunnel to accommodate the T56, and special motor mounts were used to mount the LS3 engine. Exhaust is handled by Holley cast iron header manifolds, and the front LS swap accessory drive system is from Holley. A Holley Dominator EFI system manages the engine and fuel system.
Our crew rewired the Corvette with modern wiring, and added a custom fabricated air intake system and K&N air filter to allow the Corvette LS swap to breathe freely.
In addition, the Corvette needed some maintenance. For example, the C3 Corvette's headlight doors are not working, and the windshield wiper door was also not working. These items rely on vacuum for power, and they wear out over time. The V8 Speed and Resto Shop team elected to install a Detroit Speed Corvette Headlight Motor conversion and a Detroit Speed Windshield Wiper conversion as well. These convert the vacuum systems to electric headlight motors and an electric wiper door.
The V8 Speed and Resto Shop team performed other upgrades to the C3 Corvette, including a dashboard gauge set from Dakota Digital and a modern air conditioning system from Vintage Air. A Custom Autosound bluetooth stereo provides enhanced connectivity and better sound quality.
Other performance upgrades include a Hydroboost brake system from Hydratech and 6-piston Wilwood disc brakes. A set of 17 inch YearOne aluminum Corvette style rally wheels were added along with performance tires.
The LS3 engine swap exhaust system was custom made, including a V8 Speed and Resto Shop fabricated stainless side pipe exhaust system filled with Magnaflow sound deadener.
Once completed, the V8 Speed and Resto Shop crew created a base tune to get the 480 horsepower LS3 engine running, and then used both a laptop computer and the Holley Dominator's self-tuning ability to refine the LS3 engine tune. In the end, the Corvette LS Swap was a complete success, and the owner was able to drive this freshly repowered C3 Corvette home nearly 1000 miles without an issue.
We invite you to contact the V8 Speed and Resto Shop anytime at 314.783.8325 for a Corvette LS Swap or any type of LS Swap in a classic or muscle car. We can also be reached at https://v8speedshop.com/contact/ .
See the complete photo and video gallery below!
Contact the V8 Speed & Resto Shop with all your Classic or Muscle Car needs today!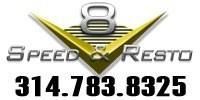 817 S. MAIN STREET – RED BUD, IL 62278