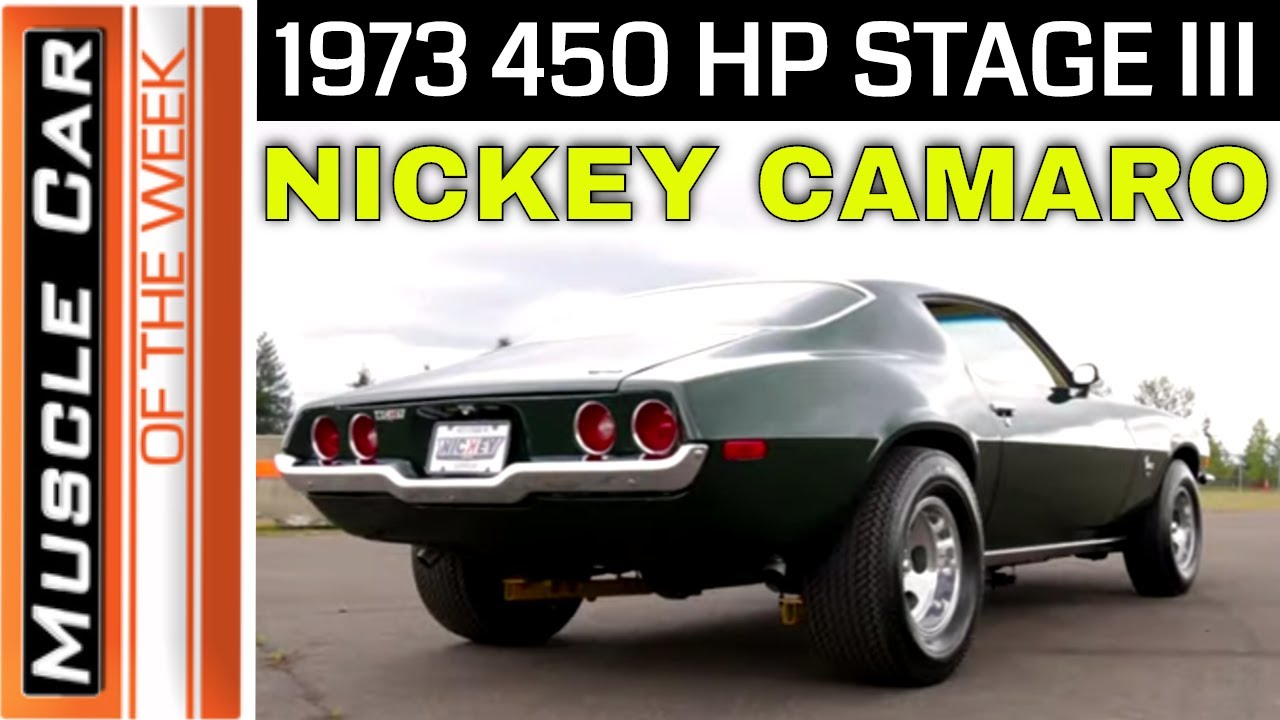 1973 Nickey Chevrolet Big Block 454 Stage III Camaro Muscle Car Of The Week Video Episode 352
Factory-built 1973 Chevrolet Camaros were pretty dismal when it came to power. See the couple on the cover of the brochure? Know why they're not smiling? Because their 175 HP 350 sucks. Nickey Chevrolet was out to fix that.
While some dealers were more interested in a hands-off approach to selling cars, meaning they'd offer what the manufacturers built and that was it… others enjoyed building their own editions with options not available from the manufacturers. Nickey Chevrolet in Chicago was one that built and sold cars far more powerful than what was offered by Chevrolet.
If you lived in Chicago, Nickey Chevrolet was the place to go for high performance bow-tie machines back in the day. This 1973 Nickey Stage III 454 big block Camaro is loaded with cool performance parts installed by the Nickey team.
It all starts with a Chevrolet LS6 454 V8 engine, rated at 450 HP. The LS6 big block was not available in the second generation Camaro, and especially not in a 1973 model. But that didn't stop our friends at Nickey from bringing cars to life with one of the baddest big blocks Chevy ever made. Numerous performance parts were added, like a Holley carburetor on top of an aluminum intake manifold, a hotter cam, ignition, and exhaust headers. It was hooked to a Muncie 4-speed manual transmission with a heavy duty clutch, and a 10 bolt rear end took the twist and turned it into forward motion with the help of bolt-on traction bars to keep the Rocket wheels and sticky tires from hopping all over the place.
And the combination worked on this car, as there's documentation of the first owner racing it to a 10.52 at 129 MPH in the quarter mile back in the day. It even won a championship, and held a 1974 world record in the 8th mile, clicking off an 8.12 ET on June 23 of '74. What's even more fun is that this is the only known example of a 1973 Nickey Stage III Camaro of it's kind.
Sure, power was dropping by 1973, but dealers like Nickey were happy to provide hot parts and service to keep the low-compression, emissions-compliant no-fun police at bay.
The Nickey Stage III big block 454 Camaro is still wearing nearly all it's original sheet metal, save for a part of a quarter panel that was repaired. The hood is reminiscent of the L88 Corvette hood, but this is not a Z-28 split bumper fancy bodied car with spoilers and stripes and stuff. It was repainted at some point, but in the original Midnight Green… a very 1970s color, especially when contrasted with the "neutral" tan vinyl interior. Midnight Green is also a good, dark, street-racing color.
Most race cars lack interior features to save weight, but this Nickey Camaro boasts an interesting upgrade in the form of an 8-track stereo tape player, touted as the same used in Lear jets of the time. Well, you gotta have tunes if you're going to cruise, right? Other than that, it's got high-backed buckets, and some modern gauges were installed, indicating that this car still sees some occasional track action. We had fun with it, for sure.
The Brothers Collection keeps a watchful eye on a variety of dealer-built supercars, and we hope you enjoyed our time with this brutal '73 Nickey Stage III Camaro. Subscribing is the best way to stay in the loop with MCOTW, and we've got another cool show planned for you next time. Thanks for watching!
#Camaro #Nickey #MuscleCar #V8TV
SUBSCRIBE: https://goo.gl/RIkdDS
http://www.musclecaroftheweek.com
Subscribe to the V8 Radio Podcast on your favorite Podcast source!
Alexa: "Play V8 Radio Podcast"
Amazon Music: https://amzn.to/3kx9twI
Stitcher: http://bit.ly/V8RStitcher
Apple Podcasts: http://bit.ly/V8RApple
Google Podcasts: http://bit.ly/V8RGoogle
Spotify: http://bit.ly/V8RSpotify
Player.fm: http://bit.ly/V8RPlayer
Podchaser: http://bit.ly/V8RPodchaser
Podbean: http://bit.ly/V8RPodbean
iHeart Radio: https://ihr.fm/2wkR81E
TuneIn: http://bit.ly/V8RTuneIn
V8 Radio Website: http://www.v8radio.com
V8 Radio Facebook Page: https://www.facebook.com/V8RadioShow/