We recently did some work on this clean 1969 Chevelle for a cool customer who's become a good friend over the years. The car came to us with most of the pieces in place, but just not playing that well together. In fact, it's been a repeat visitor over the years getting better upgrades each time.
The first time, we did some driveline repairs, but the fun project was creating and installing a custom contoured firewall we made in our fabrication shop. It was made from 18 gauge cold rolled steel, and the design added strength and a style that didn't look out of place on the Chevelle. Once that was body worked and painted, we moved on to the engine.
It originally arrived sporting a crate big block Chevy, but we eventually installed a Fast Times Motorworks built 460 cube torque monster for more laughs from the right pedal. This one started as a 454 with a 4-bolt block, but was bored and stroked to 460 cubes with Scat I-beam rods, Keith Black pistons, and ARP hardware throughout. The top end relies on a Howard's roller cam and Edelbrock heads and intake inhaling the mix from an MSD Atomic EFI system.
It's bolted to a Tremec TKO-600 6-speed manual transmission shifted by a Hurst stick and a hydraulic clutch for smooth action. We installed 3.55:1 Motive gears in the 12-bolt housing along with a Detroit TruTrac differential for better grip. We love the sound of a rumbling big block through the stainless x-pipe Borla mufflers.
Handling is improved with a QA1 tubular coil-over suspension system up front for adjustability, a nice ride, and a lowered stance. The upsized QA1 sway bar resists body roll when you whip the Grant steering wheel and Delphi quick-ratio steering box around. The rear is hung with more QA1 coil-overs, tubular arms, and sway bar. We added Wilwood disc brakes all the easy around, which hide behind 17" Rocket Racing Booster wheels. The calipers are squeezed by a Hydratech hydraulic brake assist unit.
Inside, you'll find Dakota Digital Gauges, a tilt steering column, Scat seats, and a Vintage Air A/C unit with it's compressor and belt held in place by a Vintage Air Frontrunner serpentine accessory drive system.
The Chevelle wears a handsome shade of metallic charcoal gray, but it really came to life when we added some custom-made silver SS396 stripes to the sides. It's a sharp car that drives like a champ.
You can see more photos of the work on this one by clicking on the link in the description, and please don't hesitate to contact us if your muscle car needs some upgrades, tuning, or a complete do-over… we're happy to help!
Contact the V8 Speed & Resto Shop for all your restoration and performance needs!
314.783.8325 https://www.v8speedshop.com
The V8 Speed & Resto Shop is a full-service classic car and muscle car restoration service ready to perform everything from simple maintenance on vintage cars to full frame-off restorations and modifications.    Whether you are seeking a stock restoration, a pro-touring muscle car, or a custom restomod, the V8 Speed & Resto Shop in Red Bud, IL, can help.   Contact us today to put the V8 crew to work for you.      Transport services are available.
Contact the V8 Speed & Resto Shop with all your Classic or Muscle Car needs today!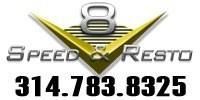 817 S. MAIN STREET – RED BUD, IL 62278