The V8 Speed & Resto Shop recently completed a modern 5.0 Coyote V8 swap into a 1972 Ford Bronco that was brought to us as a restored truck. Now, the restomod Bronco runs much stronger and is more reliable thanks to the Ford Performance 5.0 Coyote V8 engine swap and upgraded Dakota Digital Gauges. The V8 Speed and Resto Shop conversion also included installing a custom mandrel bent Magnaflow exhaust system and high-pressure fuel system to run the Coyote engine.
Now that the 2021 Ford Bronco has been revealed, it's fun to show how early Ford Broncos can be retrofitted with modern Coyote V8 engines and technology to make the classic Ford Bronco perform like the new 2021 Bronco.
The V8 team used some engine mount brackets and a fuel tank and pump system from BC Broncos to help the process go smoothly, but they still had to widen the inner fender wells and smooth the firewall. The steering gear mount was modified as well.
The V8 Speed team also upgraded the interior with the new gauges and a Vintage Air A/C system, and they installed LED headlights for better night visibility.
The Ford Racing Coyote V8 engine is a 5.0 liter, all-aluminum, dual overhead cam electronically fuel injected V8 engine similar to what is found in new Ford Mustangs. The factory rating is 460 HP, but this retrofit installation features a bit more thanks to the free-flowing fabricated aluminum intake manifold and the less restrictive Magnaflow mufflers and custom built, mandrel bent exhaust system.
We invite you to contact the V8 Speed and Resto Shop anytime at 314.783.8325 for a Coyote swap or restoration for your classic car, truck, or muscle car.
The V8 Speed & Resto Shop is a full-service classic car and muscle car restoration service ready to perform everything from simple maintenance on vintage cars to full frame-off restorations and modifications. Whether you are seeking a stock restoration, a pro-touring muscle car, or a custom restomod, the V8 Speed & Resto Shop in Red Bud, IL, can help. Contact us today to put the V8 crew to work for you. Transport services are available.
Contact the V8 Speed & Resto Shop with all your Classic or Muscle Car needs today!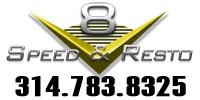 817 S. MAIN STREET – RED BUD, IL 62278